Plantation shutters simply exude quality and class. That's why many homeowners choose them to furnish almost any room, and hunt for the perfect stain to complement their aesthetic.
But before you impulse buy new plantation shutters, consider the following about this elegant window treatment and to find the right fit for your style and budget.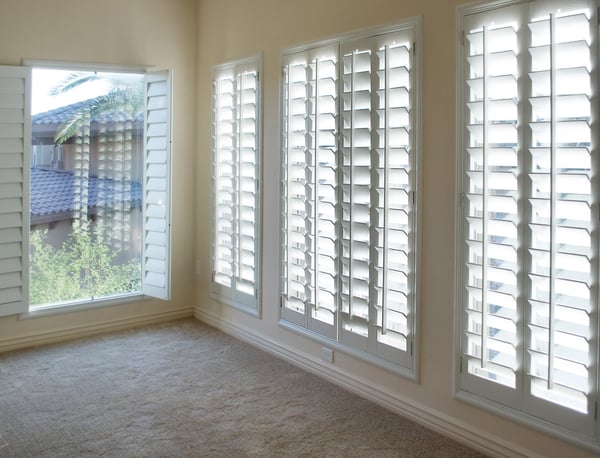 Composite or Wood
Many homeowners admire the natural style of wooden shutters, but real hardwood boasts an expensive price tag. Still, nothing says cheap quite like plastic window dressings.
Because of this, more and more window treatments are produced with composite materials, mimicking the look of rich wood. In many cases, these faux wood composite shutters offer the same balanced protection against sun and heat as real wood, and are designed to last for many years to come. For example, every louver on our Hunter Douglas plantation shutters is reinforced with an aluminum insert for added stability and reliability.
While hardwood shutters are expensive, the attraction is in the details: the fine texture of real wood grain. Real wood shutters typically come in more diverse stains and colors too, like our popular Heritance® shutters, which feature 35 colors alone— including a soft Salt and Pepper brown or subtle Driftwood.
Louver Size
Horizontal shutters have slats, called louvers, which are responsible to allowing light in or out, and vary in width.
Just like choosing the right slat size for blinds, finding a preferred shutter louver size is largely dependent on how much light you want to let in, your desired level of maintenance and your favorite style.
Plantation shutter louvers typically range from 2 ½ to 4 ½ inches, each creating a different look and functionality.
Smaller windows often pair best with smaller louver size, as it complements the opening, proportionally. Two and a half inch louvers are usually considered the "traditional size" and offer more privacy than wider slats, as they have smaller openings to block peeping eyes.
However, while small louvers can be quite attractive, they are not as easy to clean as larger sized slats, which can be wiped down more quickly. Those who still prefer a small slat can opt for dust-resistant shutters— like our AlumaCore line— which repel danger, unlike many wooden or composite kinds.
Wider shutter louvers offer a more grand feel, perfect for making large windows look even bigger. Three and half to 4 ½ varieties also let in more light when opened, and can create a more dramatic darker aurora when tilted. To achieve this atmosphere, try our NewStyle® hybrid shutters, available in rich wood-like stains like warm amber as well as in clean neutral paints, like Swiss cream.
Which Room You're Furnishing
Different rooms of your home call for different window treatments.
Kitchens and bathrooms, for example, look wonderful with plantations shutters, but they require a treatment that can withstand moisture. Many of our customers turn to our Hunter Douglas Palm Beach™ line, which are guaranteed to never warp, crack, fade, chip, peel or discolor.
Others love shutter choices with variance in louver size, choosing smaller slats for added privacy in more intimate areas of their homes— like the bedroom— or larger louvers for areas that require more light, like an open living room.
While plantation shutters can be quite lovely, areas that require a softer diffusion of light may benefit from elegant shades. Or, a sliding glass door may require blinds.
Perhaps Blinds or Shades Are a Better Fit
Imagine the bold, full look of wide-slat vertical blinds, or the soft glow seeping through cellular shades. Although shutters have their own appeal, so too do these two popular window treatments.
Confused on the difference? You just read about shutters, so it might be helpful compare blinds vs. shades next.
Then, explore our sister articles on What to Consider Before Buying Shades and What to Consider Before Selecting Blinds, to help you decide which dressings are best for each room.
Browse our Personal Showroom
Did you know that we have a fully-stocked showroom, conveniently located in Fort Myers? It's packed with our Hunter Douglas lines, making it easier than ever to peruse your options.
Raise and lower a set of cordless blinds or watch your favorite shutters peak open on their own, with the press of a button. After you see how they function, choose the best colors and textures by feeling and seeing the product before your very eyes.
Simply call us at 239.689.4375 to schedule a time to visit our showroom, today.