4 Steps To Selecting The Best New Window Treatments
For those with their hearts set on blinds, we understand. From the sleek, refined look of metallic-finished aluminum to the sexy, curved vanes of soft draped vertical panels, there's nothing like the slatted-look of the right set of blinds.
But when it comes to selecting the right window treatment for your home, there's so many options - and the choices can become overwhelming.
Why are you shopping for blinds? Is it to control the light in a certain room? To increase your home's insulation? Maybe you'd like to add life and color to compliment your beautiful decor?
No matter what your goal, we're here to help you make your decision, one step at a time:
Vertical vs Horizontal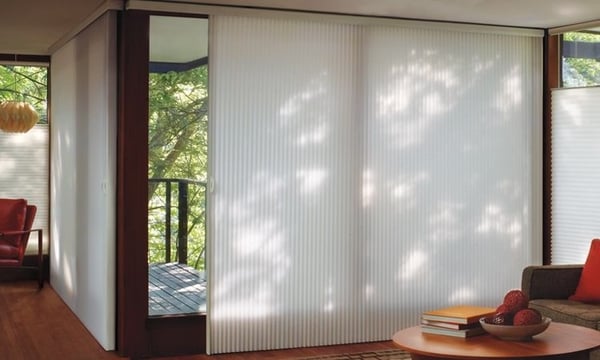 Blinds traditionally come in two forms—horizontal or vertical— each with their own set of benefits and visual appeal.
Horizontal window blinds are the more conventional choice, adding a classic look that has withstood the test of time countrywide. The slats can be adjusted to let just the right amount of light in or opened to expose the rich outdoors and let more light in.
Vertical window blinds are often designed for wide expanses, as they stack to the side and require more space when pulled open— as opposed to horizontal blinds, which stack at the top of the window. Florida homes are often designed with large windows to let the beautiful sun in, featuring sliding glass doors and wide windows in areas such as living rooms, great rooms or dining areas. Oftentimes, vertical blinds make a room look taller, leading the eye up and down, and make a great choice for these windows.
STEP 1: Start your journey by pursuing these Hunter Douglas horizontal blinds. Next, explore our vertical blinds, including our three favorites.
Width of the Slat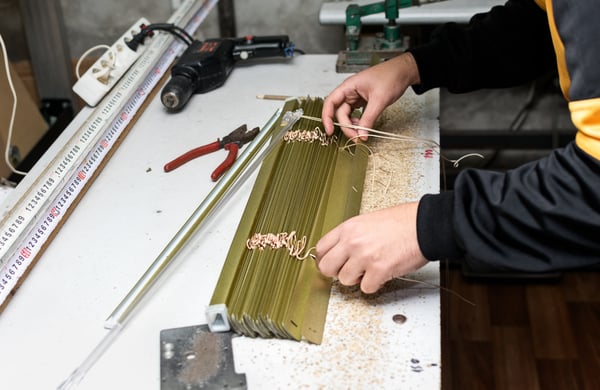 Horizontal blinds generally come in these standard sizes: one inch metal, two inch, two and a half inch, all the way up to three inch wide slats.
Very wide blinds give you a better view when opened and allow more sunlight in. If illuminating your house is a priority, these may be ideal. Those who are concerned with privacy, however, may do best with a smaller sized slat.
Have you considered how the width looks in relation to the proportions of your windows? Small windows, for example, generally look better with small slats. Texture has a large influence here too, as wooden blinds are typically sold in larger varieties of two to three inches verses thin aluminum blinds, and come in either a smooth or embossed finished to look like real wood.
Material & Texture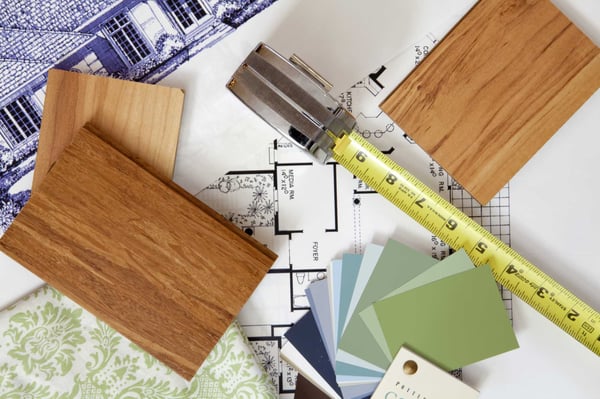 There are a handful of choices of materials your blinds could be made out of or coated with, all affecting the aesthetic and functionality within your home.
Wooden blinds create a natural tone, whether made from real hardwood or faux wood and come in breathtaking stains and colors to match any space. Bamboo, reed, rattan, exotic grasses, and other natural sources make wonderful shades as well (again, not blinds, but close!). Explore some of the pros and cons of wooden blinds here. Wooden or composite shutters may even be an option.
Hunter Douglas's Precious Metals® Aluminum blinds look stunning against concrete, wood, brick, leather. The aluminium is reflective and bounces light into your rooms, and are available in sophisticated bronze, silver or other attractive hues to elevate your space to industrial modern chic.
Rising Point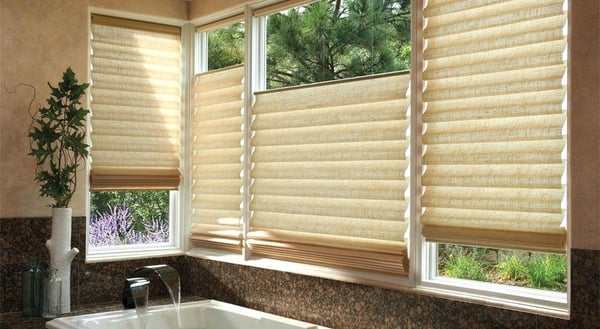 Blinds or shades can rise and lower at different points, creating various looks and achieving certain levels of privacy and light flow. For example, some honeycomb shades lower from the top of the window down, instead of the bottom up, to allow light to peek through—while still giving you privacy inside. Note that these are traditionally shades, not blinds, as they offer diffusion of light without slats, but can achieve the same effect of blinds that you love.
"Top-down bottom-up" shades offer advanced light control from traditional bottom to top blinds, with the ability to have open light come through the top and bottom of your window while still blocking the center section. These are often a preferred choice for bathrooms or in homes with double-hung windows, when you want light or air flow, but still need substantial privacy.
STEP 4: Explore Hunter Douglas Top-Down Bottom-Up Shades, including Roman shades, cellular honeycomb shades known as pleated shades before assuming blinds are the best way to go.
Visit our Showroom to See a Full Selection of Window Shades and Blinds
You can do the research all day long, but there's nothing like seeing and touching your blinds in person. Not only will you see subtleties in texture, their true color and proportions to different window frame sizes, but you'll also be able to see the different operating styles between corded and cordless shades and blinds in order to find the smoothest, quality blind for you.
Upon visiting our showroom, you may even discover a shade or sheer is the better choice for your needs. Call us at 239.689.4375 to make sure we're available and schedule a time to come into our showroom today.