When it comes to window treatments, there's a lot of choices. Even if you've narrowed your selection down to blinds or shades, there's many types, both with their advantages and drawbacks.
We've got the comparison you need to choose between blinds vs. shades in each room of your home.

What's the Difference Between Blinds & Shades?
Think of blinds as "hard" window coverings. They're slats that stack lengthwise or, if vertical, can be pulled to the side. The vanes can also be tilted, to allow light in while the treatments are still covering the glass.
Blinds are typically made from wood, faux wood (made of composite material) or woven wood, like these Hunter Douglas blinds.
Shades, on the other hand, are "soft" window dressings. They have no slats or openings between vanes, and instead, are made of smooth fabric that folds up (or sometimes down) to fully expose the window.
Roman, roller, solar and cellular are common shade types, and feature energy-efficient benefits, various levels of transparency and elegant styles for light control and class.
The Pros & Cons: Blinds vs. Shades
Let's explore a few of the advantages and disadvantages of each window treatment:

Blinds are easier to clean. The slats of blinds are easier to clean than cloth shades, and are a great option for those with allergies to dust, danger or pollen.


Blinds are less expensive. Blinds are one of the least expensive window coverings, on average. For those seeking a financially conscious decision, they may be the most affordable choice.


Blinds offer better light control. Crack open slats to allow light in or tilt to darken. Most common shades can be positioned up or closed, but have predefined opacity levels, while blinds can be adjusted to control light flow.


Shades are more energy-efficient. Shades like cellular "honeycomb" treatments boast dual comb technology that trap air inside of the pockets, creating insulation, keeping hot summer air out and cool air conditioning in.


Shades offer more privacy. Shades allow light to seep into your home even while down, offering more privacy than most blinds. Blinds are either open and allowing light and visibility inside, or closed and blocking the sun.


Shades typically come in more styles. While blinds come in many styles and materials, shades usually have a more diverse variety of fabrics, patterns and colors.

Which Window Treatment is Best for Each Room?
Each room calls for its own unique window treatment. Some styles don't work well in certain parts of your home, or provide more of a benefit in one place versus another. We're here to help you decide.
Bathroom
This intimate room of your home calls for two very important needs: privacy and a material that's moisture resistant.
Our recommendation: Cellular blinds. They create a soft transfusion of light while blocking sight. Plus, honeycomb blinds breathe well with humidity.
Bedroom
The bedroom is a unique area, as it requires both privacy and openness. Mainly, you need something that will block the rise of the morning sun and darken your room in the evenings.
Our recommendation: Roller shades. With a diverse selection of fabrics, these shades can match any bedroom decor or paired drapery. Designer roller shades can even boast motorization and be programmed to rise and fall automatically, alongside your routine.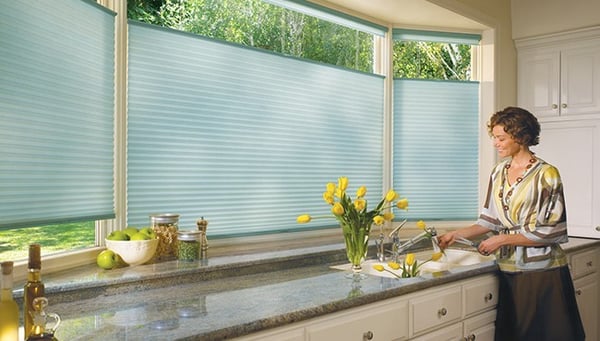 Kitchen
You want your kitchen to have an open, airly look, but still be able to block that midday glare while washing dishes. Your window treatments need to be thin but thick enough to block light as well as high enough to avoid splashes from cooking.
Our recommendation: Roman shades. Flat Roman shades fold up at the top when raised, creating a bunched, elegant look right above your sink. Many fabrics feature unique patterns and designs to accent a neutral kitchen space.
Living Room
The living room is your home's central area of communion— a warm, inviting space. You need a treatment that conveys comfort while illuminating one of the largest rooms in your home.
Our recommendation: Wood blinds. Stylish hardwood slats are available in rich, natural tones that create a relaxing atmosphere. They're easy to clean to help you maintain that sharp look and can be tilted to allow light in while still down.
Choosing the Right Blinds or Shades
Still not sure which window treatment is best? Here are some things to consider before selecting blinds and a few benefits to using solar shades in Florida to help narrow down your choice.
There's nothing quite like seeing these dressings in person. Our Fort Myers showroom includes a vast variety of Hunter Douglas blinds and shades. Schedule a time to visit to touch and see your options, by calling (239) 689-4375 or contacting us, today.