Homeowners all across Southwest Florida are creating some buzz about their love for cellular (AKA "honeycomb") shades.
We understand why.
Not only do these pleated shades provide a soft look without losing the function of blinds, but they're also eco-friendly.
Let's see what makes these honeycomb window shades so sweet.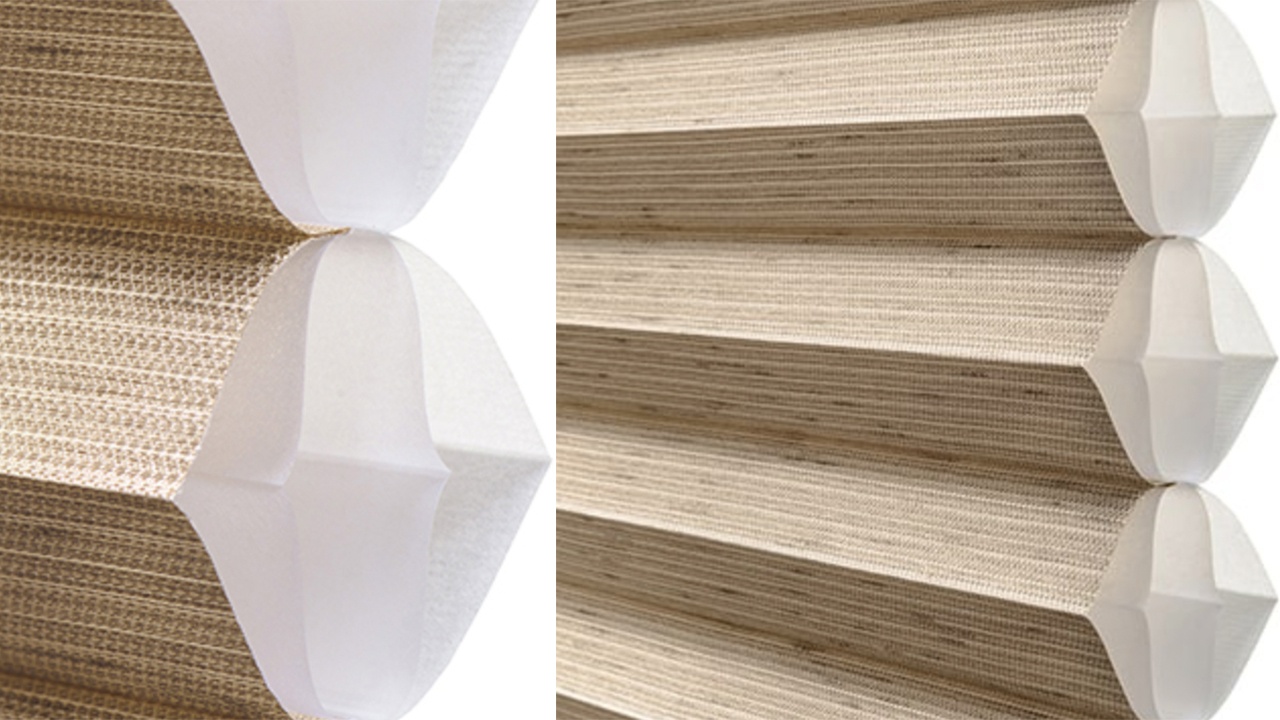 What Are the Benefits of Cellular "Honeycomb" Technology?
Basically, all you have to know is this cellular design decreases your energy consumption and saves you money on your electric bill.
The honeycomb modules trap air inside of the pockets, which creates insulation, keeping the hot Florida summer air out and your cool air conditioning in.
Hunter Douglas Duette® Honeycomb Shades (depicted above) are from their Architella® double cell line, boasting dual comb technology. This means these pleated shades have a comb inside of another comb, for double protection and maximum energy efficiency.
Plus, they look pretty sleek.

Introducing Hunter Douglas Duette® Honeycomb Shades
Our Hunter Douglas Duette® Honeycomb Shades are the ideal cellular shades for protecting your home all year long.
They feature the same eco and wallet friendly technology described above and are available in various pleat sizes, fabrics, colors, opacities and textures.
The 3/8" pleats are perfect for french doors and tiny windows, 3/4" standard size universally complements any window and our large 1 1/4" or 1 1/2" pleats add balance to taller, wider windows.

With nine different color options, including a unique shade in soft blush called Peony and a bright Pistachio green, these shades can either blend into your current space or set the tone as a staple accent.
Functionality wise, they fold up neatly and, just like any traditional pleated shades, can be adjusted at various heights. These honeycomb window shades are also available in Duolite® technology, providing maximum light control with two separate fabric panels to achieve that perpetual day and night look.
In addition, Hunter Douglas Duette shades are available for any skylight or special window shapes, making them a smart option for arches, sidelights and circular domes. In fact, their Vertiglide™ operating system is perfect for adding extra insulation around big doors— available in one giant shade to cover the entire expanse of a sliding door or a split stack to control each window individually.
One of the most unique things about these honeycomb shades is that they can be adjusted to allow visibility at the top of your window, not the bottom. Look at their LiteRise model on Pinterest.
Look at how these Hunter Douglas Duette honeycomb shades with EasyRise cord loop add a warm color to this bedroom or how these LiteRise shades look in their modern industrial office space.
These Duette shades are custom-crafted in the United States. Best of all, every window treatment from Hunter Douglas is covered by a lifetime limited warranty.
With such variety in color, pleat size and more, Hunter Douglas Duette cellular shades look great in almost any room.
Explore More Window Treatment Options
Are these honeycomb blinds not as sweet as you'd imagined? Maybe your space would look better with metal shutters or wooden window treatments rather than cellular.
We have so many different options for you to choose from. Don't let all the choices overwhelm you.
Our DIY Buying Guide to Home Window Treatments & Accents can help you get started exploring different window covering styles for your Florida home. Download it today to decorate your space in style.