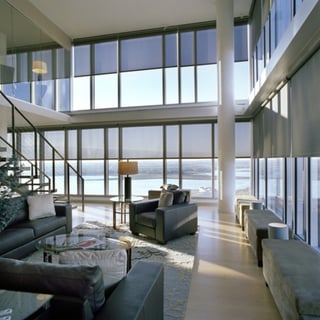 Every year, southwest Florida averages 98 days of cloudless sunshine, and 168 days of partly sunny skies. That's an incredible total of 266 days of sunshine!
With all that natural light, there are few daytime moments where you want to roll down your window shade, but what about the annoying glare and expensive cooling costs? Normal blind materials allow up to 20% of the sun's heat and UV rays to enter the home.
Now, with solar shades, you can let the southwest Florida sunshine into your home while still saving money on energy costs and preventing the glare from cascading across your computer screen.
Solar Shades: The Basics
Solar shades are the latest advancement in window blind technology. They are made of a tightly woven fabric that blocks out most of the sunlight while still allowing the homeowner to see through the window. The woven fabric also protects the inside of the home by reflecting and absorbing the sun's rays. This will prevent furniture from fading, protect your digital screens from glare, and save on costly electricity bills. Furthermore, while standard window blinds will completely obstruct your view, you can still see outside through drawn solar shades.
Why Switch to Solar Shades: The Benefits
Solar shades provide homeowners with many benefits. Whether you are looking to save money on energy costs, cut down on glare in the living room, or add and little style to your home, solar shades are a great option. We compiled a list of the main benefits:
Since Solar Shades reflect as much as 95% of the sun's heat, glare, and UV rays, they save the average homeowner about 15% on energy costs. We can only assume the Solar Shades blocking 266 days of Florida sun will save much more than that 15% average.

Solar Shades are popular in family rooms and offices, both private and public, because they greatly reduce glare. After installing Solar Shades, you won't have to stare at your own reflection in the computer screen or squint to watch the television.

While blocking the sun and the glare, solar shades still allow the homeowner to see out the window. Most Solar Shade distributors carry three options that allow light to enter at varying levels: transparent (5-14%), translucent (1-3%), or blackout (0%). Your choice will depend on your own personal preference.

Not only are Solar Shades UV resistant, they are also woven with antimicrobial and flame retardant materials. With Solar Shades, you can protect your wood floors from fading, keep your windows free of those pesky microorganisms, and prevent a devastating fire from spreading quickly.

The woven construction makes Solar Shades durable and long lasting. They are a great investment for the savvy homeowner.

Go Green with Solar Shades! Not only are they energy efficient, but they can also be made of 100% biodegradable and recyclable materials.

Finally, Solar Shades give your home an elegant touch. They are thin, space efficient, and fit any interior decorating style. From minimalist to island tropical, the different options can fit your decorating needs.
Find the Right Solar Shade for your Southwest Florida Home
Solar Shades provide the homeowner with many great benefits. Whether you want to reduce glare, save money on electrical costs, or add a little style to your home, Solar Shades are the trendiest southwest Florida window treatment option. If you want to discuss Solar Shades for your home, contact our team at Beach Bungalow Blinds to learn more.