Everything You Need to Know About Top-Down Bottom-Up Shades
Imagine enjoying a brightly lit room, while still having the privacy and protection of window coverings throughout your home.
With traditional window treatments, this is hard to achieve. Either your shades or blinds are open and your home's interior is exposed to your neighbors— or, they're closed and your privacy comes with the harsh glare of artificial, fluorescent lighting.
Why not have the perks of both?
Bathe in the soft flood of natural light, while still maintaining the concealment you desire, with top-down bottom-up shades.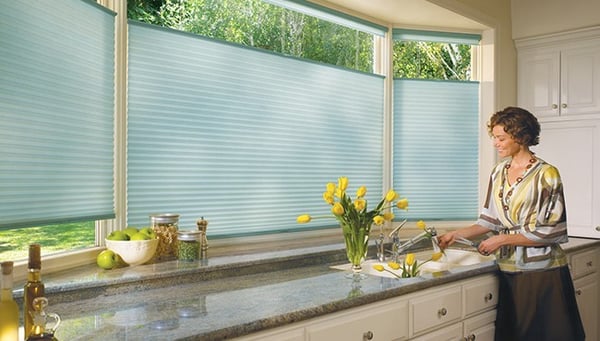 What are Top-Down Bottom-Up Shades?
Top-down bottom-up shades have the ability to lower from the top of the window treatment, instead of the traditional fashion of stacking up from the bottom.
On tall windows, this functionally allows you to let light in from the above eye-level, without giving the outside world visibility into your home. Just like the name suggests, top-down bottom-up shades can still be opened from the bottom up too, using two rails for flexible configurations.
This wide range of movement makes it easy to enjoy both a top-exposed and bottom-exposed gap, simultaneously. Let the sun flood in from the top-third of your window and partially raise it from the bottom for added light control without sacrificing privacy.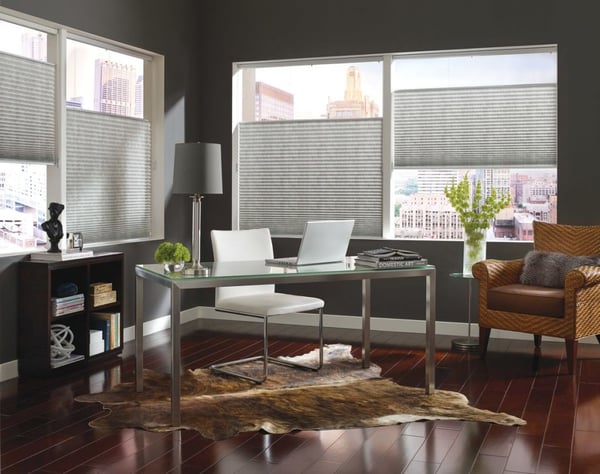 The Benefits of Top-Down Bottom-Up Shades
The biggest benefit of top-down bottom-up shades is their advanced light control, unmatched by other window treatments.
Here's a few ways these shades impress homeowners everywhere.
Top-down bottom-up shades:
Block passerby's ability to see movement inside your home while still allowing natural light to peak in.




Allow you to create custom light scenes based on the time of day, your activity and mood.




Add a touch of soft elegance with beautiful materials in variety of colors and styles to match any home's decor.




Offer a light control solution for tall, hard-to-reach windows, which offer high light "real estate" that's often hidden by long shades.




Can be operated manually with ease or programmed to raise and lower with motorization.
Motorized or Manual Operation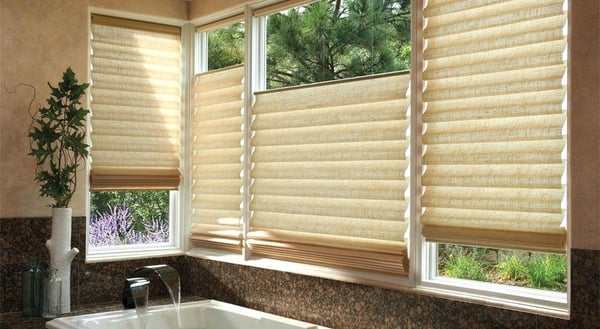 Top-down bottom-up shades aren't complicated to use, but motorized configurations can grant you added convenience. Hunter Douglas' Cordless PowerView® Motorization, for example, gives you the ability to raise or lower your shades and stack your window covering in any position, in a few clicks using a battery-operated remote.
These motorized window treatments can be programmed to remember your favorite positions, set to a timer or sun-activated and are compatible with many home systems such as Amazon Alexa, Nest and more.
Learn more about the simple luxuries of choosing automated shades here.
Styles of Top-Down Bottom-Up Shades

Top-down bottom-up shades come in a variety of styles, materials and colors to find the perfect aesthetic for your home.
Select from these four options from Hunter Douglas' line:
Create a fluid, sculpted look with a the timeless, wide-pleat style of a Roman shade. Or, add extra insulation and save on your energy bills with the advanced honeycomb technology of cellular shades.
Each style has its own unique look, and it can be hard to narrow down your choices. Here are a few additional resources to learn more about each style: why Roman shades, why cellular shades, why pleated shades and why wooden shades.
Visit a Showroom to Test Them All
Keep your beautiful outdoor view and control the Florida sun, without compromising your privacy.
You can do hours of research online, but there's nothing like being able to see, feel and use each window treatment in person. Here at Beach Bungalow Blinds, we have a fully-stocked showroom with friendly professionals to help you weigh your options.
Ready to help you find the perfect shade? Download our DIY Buying Guide today and schedule a time to stop by. Give us a call at (239) 689-4375 or email us.