As you work to add the perfect design touches to every room in your home, one space can easily be forgotten: the bathroom. Just because you won't be entertaining guests or spending a majority of your time in this room, doesn't make it any less important or mean you should spend less time designing and decorating the space.
When you're choosing your linens, tiles and fixtures, don't forget the windows! Adding a trendy window treatment is an easy way to dress up your bathroom while also creating a privacy solution for one of the most private rooms in your home.
Florida humidity combined with the naturally-damp conditions of a bathroom should also be a consideration as you decide on a fabric or material for your window treatments. You should be able to find everything from classic blinds to luxury curtain panels with bathroom-friendly finishes.
Consider your personal style and aesthetic as you browse our top window-covering picks for your beach bungalow!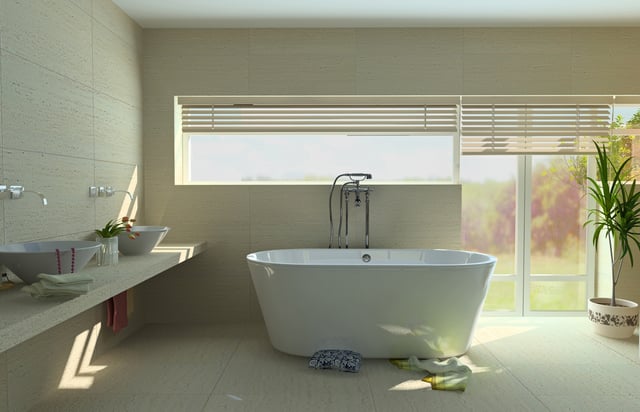 Classic White Blinds
No matter your color scheme or choice of pattern, a classic white blind can complete just about any look. Creating a crisp, clean finish, wide white blinds can continue a beach theme while also adding the necessary privacy feature for your bathroom. If paired with an appropriate painted or topical finish, blinds can also withstand a naturally damp environment.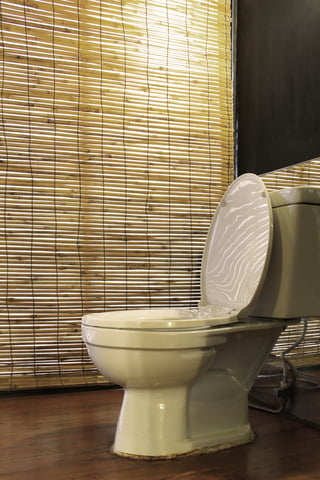 The Natural Look
Natural fiber shades work great for a Florida "beachy" vibe. Typically found in woven bamboo in a variety of colors, these shades let in diffused light, creating that natural feel in the most organic way possible: with natural light! They add texture to your space, and can be paired with almost any style. One thing to consider: if you live close to other homes and are looking for extra privacy, natural shades might not be for you.
Burst of Color
Blue is becoming increasingly popular in window treatment trends. Choosing curtains or shades in ocean hues such as teal, aquamarine, or soft greens can keep the Florida feel in your bathroom while also staying completely on trend.
Luxury Panels
Who says bathrooms can't be luxe? A soft roman shade in a rich hue can add a luxurious feel to any bathroom. Keep the rest of the room white to draw attention to the color used on the window while also maintaining a beachy vibe.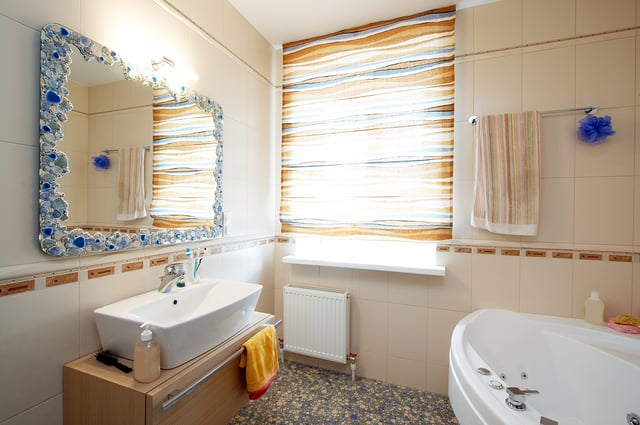 Bold Patterns and Prints
Bathrooms typically don't give you much space to work with a lot of decorative accents. Take advantage of the windows in the room and add design elements by choosing a bold pattern or print in vibrant colors for your window treatments.
Keep It Simple
Create a fabric-covered cornice and keep it flat to the frame for a simple window treatment solution. You can still play with colors and patterns in the fabric without the hassle of a full-length panel or shade. This style will allow the maximum amount of light into the room, but will also provide enough space at the top to hide a full shade or blinds behind it to pull down for privacy.
Dramatic Detail
If your space allows it, choose a grand floor-to-ceiling curtain panel for a more dramatic design element. By keeping the rest of the bathroom minimal and classic, an overstated window will feel graceful rather than overkill. Plus, imagine how regal you'll feel as you soak in the tub next to windows like these!

Café Curtain
Choosing a simple café curtain-style window treatment can achieve a few things in your bathroom. First, by covering the lower half of your windows, you can create an appropriate amount of privacy. Second, by leaving the top half of the window exposed, you can let in all of that natural Florida sunlight!
Fringe Flair
Add a pom-pom trim, tassels, fringe, or ribbon to any type of fabric to create endless styles and looks. Emphasize this detail by cropping the window treatment to a valance length and let the trim catch the light coming through the window.
Embroidery Detail
Incorporating embroidery on a sheer curtain or shade is a different approach to adding texture to your bathroom. The delicate material and pattern will give the room a soft look, while the embroidery adds depth.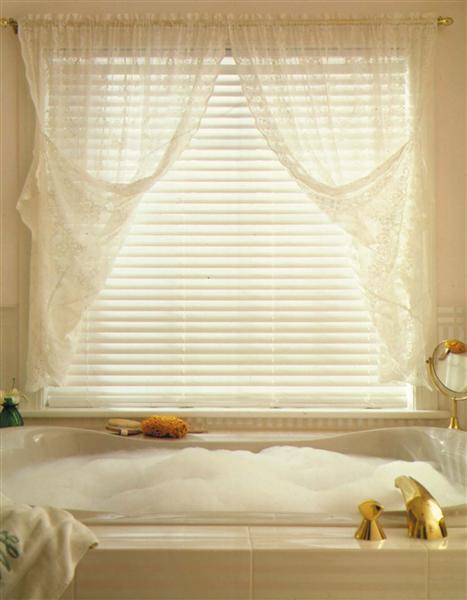 Get any ideas? Beach Bungalow Blinds can help you achieve any of the 10 looks mentioned here—contact us today and we'll help you transform your bathroom into one of the trendiest spaces in your home.