Slats Right, Getting The Right Measurements For Your Blinds Is Easy
You may have decided that you want the smooth functionality and sleek look of slatted blinds, but your choices only begin here.
To start, you'll need a slat size that's proportional to your windows and gives you the light control, aesthetic or level of privacy you desire.
Let's look at the different slat sizes for blinds to help you choose the best width for each window in your home:
Slat Sizes Based on Types of Blinds
Blinds come in all shapes and sizes: vertical, horizontal, woven, faux wood, fabric, etc. from one inch all the way up to three inch-wide slats. The type of blinds you choose will influence your options for slate size.
Vertical blinds are a popular choice for sliding glass doors or large windows, and typically come in larger slat sizes of three inches or wider. While, more traditional horizontal blinds look good almost anywhere and vary in appeal depending on your window size.
Then there's the choice of material. Those looking for a more earthy look can choose from woven blinds (more commonly seen as shades) made from bamboo, exotic grasses and more, faux wooden blinds that look just as beautiful as the real thing and even metallic blinds.
Let's explore your options based on your overall goal.
What's Your Primary Goal?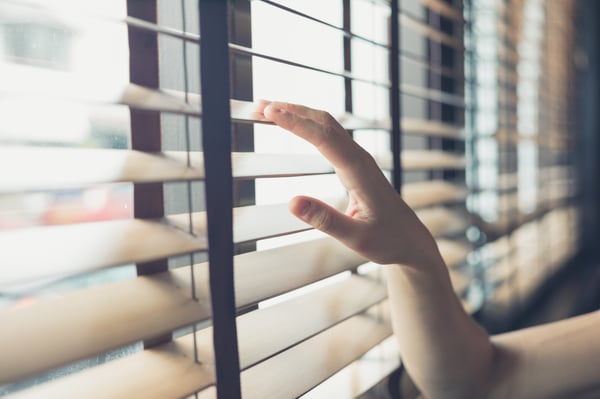 People choose blinds over shutters or shades for a variety of reasons. Even when choosing between different shades, consider what's important to you in a window treatment. Here's some advice for choosing the right blind slat width based on the most popular motivators.
More or Less Light
For those who prioritize light control, slat size comes very strongly into play. Blinds with smaller slats provide more places for light to seep through, however, when tilted fully open, a larger slat can leave more space for the sun to poke through.
Ask yourself how you will be orienting your shades. If you like them slightly tilted but not fully open, smaller slates may be best for letting more light in, as there's more spaces for it to shine. If you are looking to set the mood as a more intimate space, in maybe a reading corner for example, a wider slat— like these Parkland® Wood Blinds in a two and half inch slat—could block more light when titled close for the perfect candlelit evening.
Consider too where your window is facing. If it's north or east set, smaller slates could send more light your way. Try a two inch slat like adorned on these Everwood® Alternative Wood Blinds, that are guaranteed against fading, warping and bowing from moisture.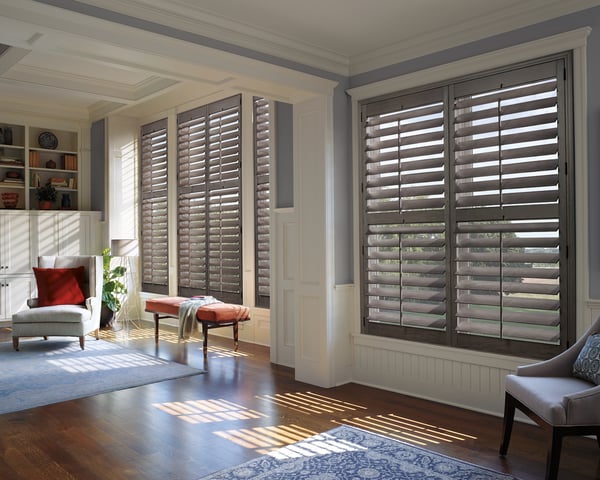 Style or Aesthetic
Is your primary concern achieving the right look to sharpen your aesthetic? Make sure you're choosing an appropriately thick slat to compliment, not distract from your window size.
Measure your window's height and width, as well as depth, and pair it with proportionate blinds. Easily enough, small slats are ideal for narrow window frames or tiny windows, while bigger spaces generally beg for larger slats.
For those looking to add a style statement, larger slates can add a chunkier, more bold look to your space, particularly against standard or "medium-sized" windows. Vertical blinds, especially some like Hunter Douglas' Cadence® Soft Vertical Blinds, mimic the elegant look of drapery, while their Skyline® Gliding Window Panels are sleek and available in many refined fabrics and textures.
Privacy or Openness
Which part of your house are you adding window treatments to? For more private areas like your bedroom or bathroom, you may want to consider a smaller slat, as a wider slate leaves more room for unwanted eyes.
Your living room, for example, is a great space to welcome lots of light, especially if it leads off to a lanai for entertaining outdoor guests. Hunter Douglas' Vertical Solutions® Blinds offer generously wide three and half inch vertical slates to illuminate your space. When the sun goes down and you want to separate yourself have the outside world, simply close your blinds.
Affordable Cost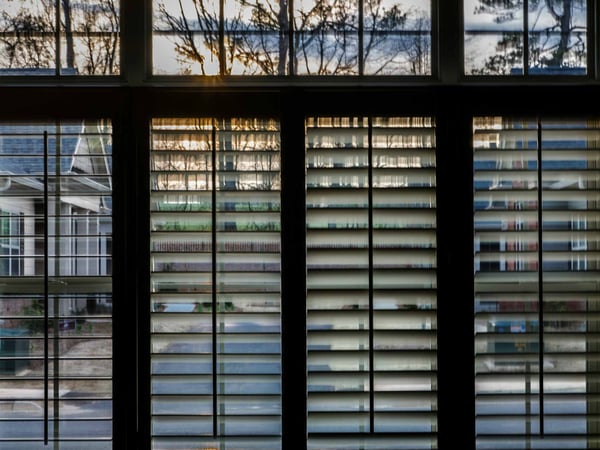 Although not always the case, generally speaking, larger slats mean higher price tags. If budget is a concern, consider smaller or medium sized slats or avoiding higher cost materials like real wood.
Need Help Deciding?
With all of these choices, it can be hard to choose the right blinds and slat width for each room of your home. Read through our other article "What To Consider Before Selecting New Window Blinds" for help selecting your materials, textures, rising point and more.
Then, come in and visit our showroom. We have displays of the most popular blinds for you to touch and see them in person to make the best decision. Call us at 239.689.4375 to make sure we're available and schedule a time to come into our showroom today.