Choosing coverings for your windows shouldn't be a tedious or tricky task. A simple way to add style to the home, blinds and shutters offer a wide range of practical benefits, from the shade they provide to the privacy they offer the occupants of a property. If you don't know all that much about window accents, tlet us shine a light on the options available.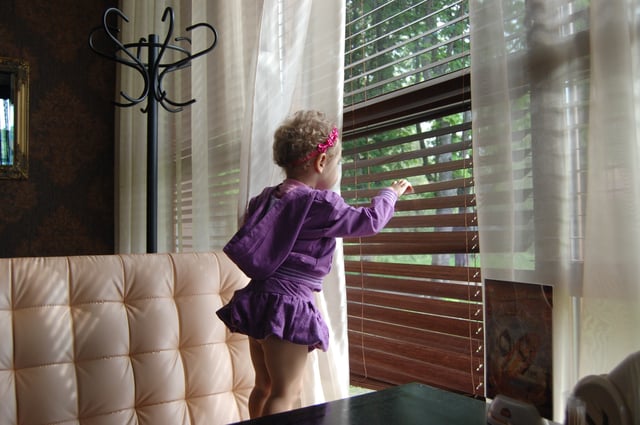 What Are My Window Treatment Options
No matter the style of home decor you have or are looking for, there's a window treatment that will fit perfectly. The following designs will give you an idea of what will work best for your home. Whether you're looking for shade, energy control, privacy, custom designs, and automation coming from one click from your smartphone, there's a solution for you.
Plantation Shutters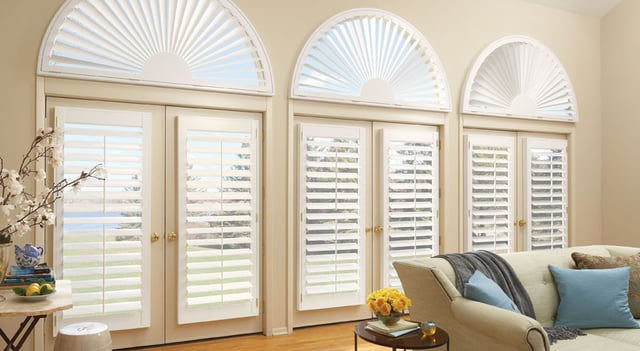 No more expensive than good drapery, plantation shutters are highly desirable and offer effective insulation. Aside from the stylish touch they can add to the home, they also increase property value. Their ability to regulate the flow of light that enters the home, as well as block out light, makes them ideal for use in the bedroom or living room.
Slat sizes include 2 1/2, 3 1/2, and 4 1/2 inches and regardless of your choice between wood or composite, the color won't fade. Crafted by experienced designers, maintenance and cleaning is straightforward. You can also choose from a number of paints and stains. Sold with a lifetime warranty, they fit any window configuration, archway or door.
Shades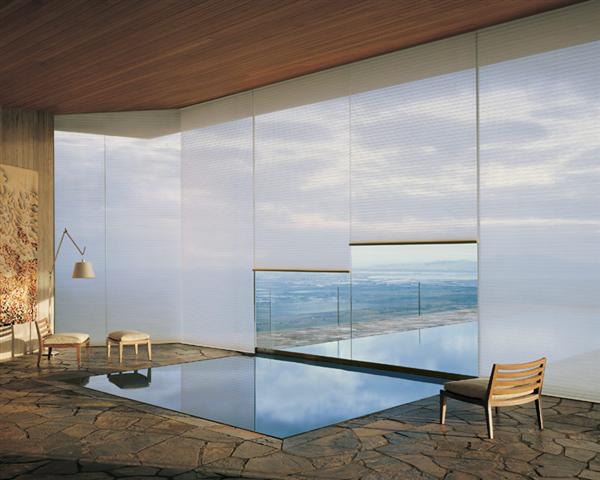 Another aesthetically pleasing window treatment option would be shades. Once shades are fitted, you get control over how much light enters a room, not to mention how private the space feels.
A way to express your personality in an inexpensive way, shades for windows can be made with soft or hard fabric. Decorating your home with stylish shades will change the overall setting of a room, as well as provide a number of functional benefits, from the way they filter UV rays to the motorization installation options.
Made in the USA, our range of shades suits all tastes, and although they minimize unwanted light, your view of the outside world will not be compromised.
Window shape and size should be considered for the following available products:
Solar & Roller Shades -

If the contemporary look appeals to you, get in touch with our team about solar and roller shades, which will protect your property from 80-99% of the sun's UV rays. Sleek in design, they reduce unwanted light and are resistant to fading. Openness levels can be selected according to your needs

and we also encourage customers to customize their solar and roller shades.
Vertical Cellular Shades -

Positioned vertically, vertical cellular shades are unique because they aid with home insulation. Made with soft-touch materials, they are a preferred option for sliding glass doors. You need not worry about these shades being an eyesore when they are stacked, because they

stack to a mere 7" no matter how large the opening

. The fact that they are positioned vertically gives them a stylish edge over some other shades.
Cellular Shades -

Perfect for helping you maintain a comfortable temperature inside the home, cellular shades can be crafted with or without a cord. The cordless option proves extremely popular with property owners who want to ensure the safety of young children and pets. Designed to the highest quality standards, these window treatments will reduce energy consumption, thus saving you money on your monthly energy bills. Offering a private touch, some designs can be raised from the bottom and lowered from the top.
Blinds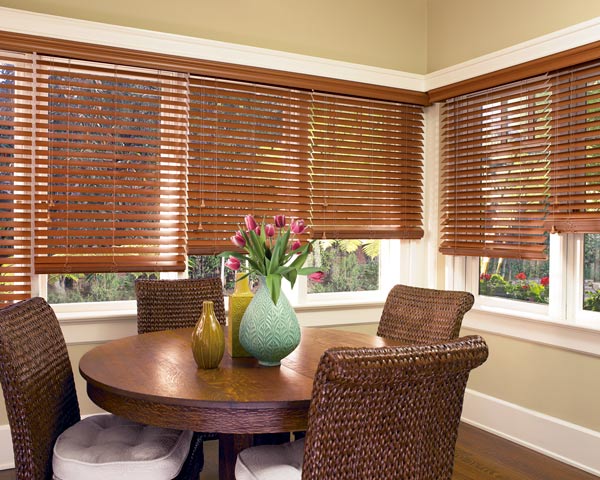 Don't get blinds and shades mixed up - they are different in the sense that shades are made from one piece of material that moves up and down, whereas blinds are designed with lots of slats and various control systems. Installing window blinds could be one of the best home improvement decisions you ever make, because there is a style to compliment pretty much any type of home.
Here are some blinds options you will find in our product range:
Faux Wood Blinds -

Wood is a material with a warm, rich appearance that can instantly transform any space. However, it can be quite costly and depending on the wood type, difficult to maintain. This is where our faux wood blinds come in - composite material window accents that are inexpensive, but that resemble real wood.

Forget about warping or yellowing, because faux wood blinds will look good as new for many years. It's up to you what stains and colors you choose, but we recommend going with one of our 20 shades that will complement the existing theme of your home. Take advantage of our free design consultation service if you need a bit of style inspiration.
Draperies & Cornices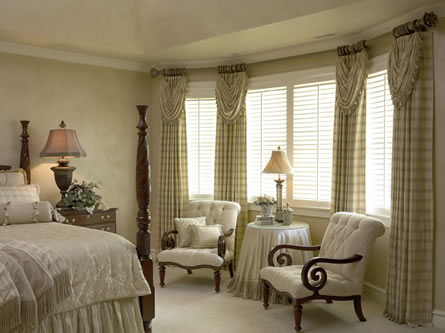 One of the easiest ways to customize your window is with draperies and cornices. Although these window treatments are often chosen as more of an accessory than a solution to privacy and energy consumption problems, they can still block out heat, the sun's rays, and prying eyes.
Styles are almost limitless, with formal and casual options to choose from. You will have the opportunity to select from fabulous fabrics, as well as plenty of custom-made styles. Once you meet with one of our designers and we understand the look you want, you can choose from our endless custom fabric collection and design options that only a professional can obtain.
What's more, it doesn't matter what type of windows you have in the home because cornices can add a 'pop' to any window, whether the cornices are pole-mounted or boarded. Aesthetically pleasing, they are a good fit if you like ornate designs.
Motorization Options and Benefits
Shades and blinds with motorization let you take full control of your privacy. Motorizing window accents creates ambiance at the touch of a button and provides individuals with height or physical ability limitations, easy access to hard-to-reach window coverings.
Advances in technology have greatly reduced the cost of motorization and virtually eliminated the sound one would expect from such a device.
So, what other benefits do motorized window treatments offer? Because our product range is constantly undergoing innovation, you are guaranteed to get the most up to date solution for your home.
Imagine the ease and pleasure of reaching for a remote to operate a single shade or an entire group. With Power View Technology by Hunter Douglas, shades can be operated with a touch of the button.
With Hunter Douglas hub, you can control your shades from your iPhone or iPad.
Motorized shades and blinds can even be programmed to open or close at sunrise, sunset or anytime in between.
These can also be integrated into your whole home automation system. Motorization is extremely compatible and user friendly.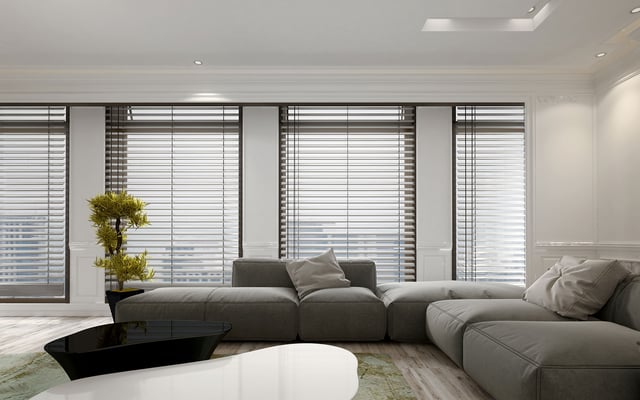 Serving Fort Myers and Its Surrounding Areas
Whether you reside in Fort Myers or in one of the surrounding areas, such as Marco Island, Cape Coral, Naples, Bonita Springs or Estero, our experienced and attentive team will work their hardest to provide high-quality services on time.
If this isn't enough temptation to get you on our side, think about the fact that all of our products are covered by a lifetime warranty. This warranty remains valid if the product yellows, warps or peels, which we are sure it will not! Moreover, our product range is a nice mixture of traditional and modern, so you won't have trouble picking out items to match your design preferences. Additionally, all of our products include installation by factory trained technicians, so your purchase is always 100% worry-free.
Want to download this guide and save it for later? Click on the button below and we'll send the full eBook to your email.