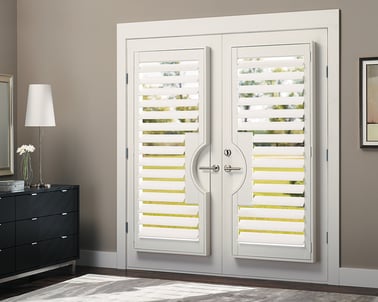 Is privacy of importance to you when you are relaxing in the home or business environment?
If you live in a busy area that sees a lot of traffic and pedestrians passing by, chances are you will want to keep prying eyes away with some kind of window covering.
This isn't the only reason to get plantation shutters though, they also add an element of style, personality and cost saving temperature control. Whether you are interested in the traditional or modern look, there are plenty of plantation shutter options to suit your needs.
What Choices are Available?
If you prefer the aged, more vintage look as opposed to the contemporary touch, opt for Colonial plantation shutters, otherwise known as traditional plantation shutters. They work well with country or classic American-style décor and add class to any home.
The alternative option is modern shutters, which can provide protection from the sun and heat when fitted on the interior or exterior of a property. Having both styles ensures that your plantation shutters will match the style of your home.
Louver Widths for Plantation Shutters
Otherwise known as slats, the louvers on plantation shutters can be conveniently adjusted, giving you the freedom to control how much light enters the home. Slat sizes typically range from 2 to 5 inches, with the most common sizes being 2.5, 3.5 and 4.5 inches.
For a better field of vision, opt for wider louvers. Keep in mind that shutters with double tier arrangements will have panels that open independently.
Complementing Your Décor
With aluminum, timber and composite plantation shutter materials available, the opportunities to compliment your existing décor are endless. When crafted with synthetic materials the color will usually be white, which is ideal if you want the shutters blend in seamlessly with any surroundings.
Wooden shutters can be painted or stained in the color of your choice and it is up to you whether you get them fitted inside or outside. Custom options are available and three popular styles include tier-on-tier, full height and café.
Professional
Installation
For your plantation shutters to fit properly and look the part, it's important that a professional is hired to take accurate measurements ahead of installation. It may also be worth requesting a free sample to ensure you are making the right choice.
Although DIY options are available, an expert will better know how to provide you with instant window coverage swiftly and conveniently.
Download our DIY Buying Guide to learn more about our various window treatments and accents, today.